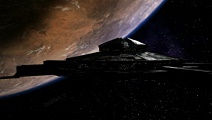 Ce vaisseau fût construit par le Seigneur Goa'uld Anubis. Il est beaucoup plus gros qu'un vaisseau Ha'tak et est équipé de hautes technologies tel que des boucliers résistant aux armes Asgards. Anubis réussit à réassembler une arme Goa'uld antique qui avait une puissance de feu indescriptible, l'œil de Râ. Mais suite à la mort d'Anubis, les plans de ce vaisseau détruit par l'arme des Anciens en Antarctique ont fuité et ont été vendus à Tonatiuh par l'alliance Luxienne.

Il en a fait construire quelques uns par les Compags pour agrémenter sa flotte.
Ad blocker interference detected!
Wikia is a free-to-use site that makes money from advertising. We have a modified experience for viewers using ad blockers

Wikia is not accessible if you've made further modifications. Remove the custom ad blocker rule(s) and the page will load as expected.