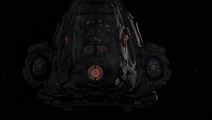 Les vaisseaux-mère des Gnitars constituent la principale ligne d'attaque. La découverte de ces aliens par le Aeryn Sincet et l'équipage du James Parker Spaceport eut lieu au sein d'un de leurs vaisseaux-mère alors que les Hanulans tendaient un piège aux terriens et les faisant attaquer les Gnitars.

Ces vaisseaux bien que d'aspects assez simple disposent néanmoins d'une technologie relativement avancée, à l'image de leurs créateurs. L'intérieur se révèle également assez basique, l'architecture ainsi que les nombreuses technologies en rapport avec l'eau (caisson, colonnes d'eau...) relient le design à un environnement aquatique.

Son armement est constitué d'un unique canon tirant avec une cadence relativement lente.

La stratégie qu'ils emploient lors d'un assaut reste toujours plus ou moins le même. Les vaisseaux-mère ciblent le JPS pendant que des vagues de chasseurs lancées par ces derniers tentent un abordage.
Ad blocker interference detected!
Wikia is a free-to-use site that makes money from advertising. We have a modified experience for viewers using ad blockers

Wikia is not accessible if you've made further modifications. Remove the custom ad blocker rule(s) and the page will load as expected.