Le James Parker Spaceport étant créé pour des missions parfois dangereuses et étant situé dans l'orbite terrestre, il était nécessaire qu'un système de téléportation soit créé pour évacuer rapidement du personnel ou pour emmener les nouvelles recrues dans la station. Au début cette technologie était plutôt volumineuse et difficile à manier. 
Un groupe de chercheurs composé d'Aeryn  s'Fallen et de Jacob Smith a alors travaillé pour créer des transpondeurs nettement plus petits et discret pouvant se placer sous la peau des personnes voulant être téléportées. Ceci est accompagné d'un code afin que le piratage soit limité au maximum. 
Cette technologie a servie de nombreuses fois pour transporter du personnel entre la terre et la station ou pour sauver de justesse des personnes en danger. 
D'aspect, elle ressemble à une puce sous-cutané, ce qu'elle est en quelques sortes.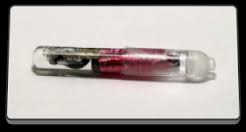 Ad blocker interference detected!
Wikia is a free-to-use site that makes money from advertising. We have a modified experience for viewers using ad blockers

Wikia is not accessible if you've made further modifications. Remove the custom ad blocker rule(s) and the page will load as expected.