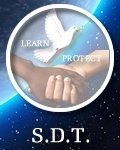 Le SDT a été créé en 2012 lors de l'incident au Bélize à l'origine du retour de Tonatiuh dans le mon des vivants.
C'est un organisme international sous la tutelle des Nations Unies.
Son objectif est de garantir la sécurité de la planète Terre.

Le SDT possède des agences dans quasiment tous les pays du monde. Ses agents enquêtent sur les phénomènes paranormaux sur Terre. 

Le James Parker Spaceport est la base opérationnelle du SDT où se trouve la porte des étoiles pour les opérations extraplanétaires.

Pour la défense de la Terre et outre le JPS, le SDT possède la Zone 52 qui effectue de la recherche sur des technologies alien pouvant nous aider à nous défendre.

La Zone 51 dans le Nevada est un chantier de construction de vaisseaux spatiaux d'où est sortit l'Achilles, un vaisseau spatial nouvelle génération qui devrait permettre de défendre efficacement la Terre contre Tonatiuh et les autres menaces qui se présentent.

Pour la formation des nouvelles recrues et non loin de la zone 51 se trouve le camp d'entraînement.

Dirigeants du SDT :
Eric Morton : 2012
John Cooper : De 2012 à 2013
Chris Liner : 2013
Archibald Delamare : De 2013 à 2014
Paul Parfait : 2014
Marc Cross : De 2015 à aujourd'hui
Ad blocker interference detected!
Wikia is a free-to-use site that makes money from advertising. We have a modified experience for viewers using ad blockers

Wikia is not accessible if you've made further modifications. Remove the custom ad blocker rule(s) and the page will load as expected.