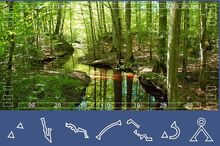 Terrain : Forêt
Climat : Continental
Civilisation : Présente
Missions : JP-1 / Achilles
Précédente mission: JP-1/Achilles en Janvier 2016
Peuple en présence: Wurtz
Menace potentielle: Aucune
Données MALP:
Température: 14 °C
Qualité de l'air: Très bonne
Niveau des radiations: Faible
Humidité: 50%
Altitude: 25 m
Autres:
Vos observations et interprétations:
La porte des étoiles se trouvait dans une forêt assez dense. Au centre de l'image passe une rivière. Elle passe vraisemblablement sous le socle de la porte des étoiles.
Lors d'une mission commune entre JP-1 et l'Achilles un peuple a été découvert, une sorte de petits lutins semblables en tout point aux Schtroupfs de Peyo. Peut-être ont-ils été à la source de l'inspiration du dessinateur.
Cette planète est maintenant dépourvue de porte des étoiles.
Objectifs possibles de la mission:
- Établissement d'une relation pacifique avec la civilisation présente.
- Organisation d'un échange de technologies et de connaissance.
Equipement spécifique:
- Cadeau
– Carte de visite de la Terre
- Mission en C-101 ou avec l'Achilles

Auteur : Thomas Sincet
Ad blocker interference detected!
Wikia is a free-to-use site that makes money from advertising. We have a modified experience for viewers using ad blockers

Wikia is not accessible if you've made further modifications. Remove the custom ad blocker rule(s) and the page will load as expected.