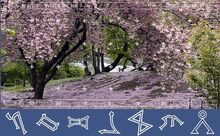 Terrain : Forestier
Climat : Continental
Civilisation : Présente
Missions : JP-3
Précédente mission : JP-3 en Novembre 2014
Peuple en présence : Samouraïs du clan scorpion
Menace potentielle : Modérée
Données MALP :
Température : 21 °C
Qualité de l'air : Bonne avec du pollen
Niveau des radiations : Négligeable
Humidité : 60%
Altitude : 1000 m
Autres :

Interprétations :
La porte semble se trouver dans une clairière remplie de cerisiers. Ceci laisse penser à un terrain arboricole. 

Pas de présence de civilisation à première vue mais ces arbres auraient put être plantés par une civilisation plus ou moins avancés du fait de la propreté et de la présence unique d'un seul type d'arbre dans la zone entourant la porte des étoiles.
Objectifs possibles de la mission :
- Recherche de civilisation
- Si présence de civilisation, lier des liens d'amitié en vue d'une alliance
- Etude de la flore et de la faune de la région
Equipement spécifique :
Aucun
Auteur : Thomas Sincet
Ad blocker interference detected!
Wikia is a free-to-use site that makes money from advertising. We have a modified experience for viewers using ad blockers

Wikia is not accessible if you've made further modifications. Remove the custom ad blocker rule(s) and the page will load as expected.