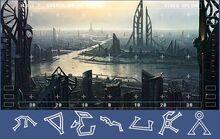 Terrain : Grande métropole
Climat : Continental
Civilisation : Présente
Missions : Aucunes
Précédente mission: Auncune
Peuple en présence: Inconnu
Menace potentielle: Inconnue
Données MALP:
Température: 24 °C
Qualité de l'air: Très bonne
Niveau des radiations: Faible
Humidité: 50%
Altitude: 105 m
Autres:
Vos observations et interprétations:
La porte des étoiles se trouve au centre d'une grande place aménagée au cœur de ce qui semble être une grande métropole. Le peuple qui vit sur cette planète semble à première vue être très avancé technologiquement. L'architecture très futuriste des bâtiments peut faire penser à la présence d'un matériau peut-être inconnu sur Terre. Le MALP n'a pas attiré l'attention et aucun garde ne semble se trouver à proximité immédiate de la porte. Cette observation nous apprend que cette civilisation inconnu n'a aucune crainte d'une éventuelle invasion par la Porte. La présence d'une arme ou d'un dispositif technologiquement très supérieur à ce que nous avons rencontré jusque là pourrait en être la raison.
Objectifs possibles de la mission:
- Établissement d'une relation pacifique avec la civilisation présente.
- Organisation d'un échange de technologies et de connaissance.
Equipement spécifique:
- Cadeau – carte de visite de la Terre

Auteur : Thena Khoomi
Ad blocker interference detected!
Wikia is a free-to-use site that makes money from advertising. We have a modified experience for viewers using ad blockers

Wikia is not accessible if you've made further modifications. Remove the custom ad blocker rule(s) and the page will load as expected.