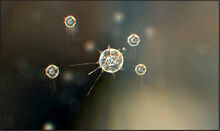 Les nanites sont des machines nanoscopiques qui peuvent entrer dans le corps d'une personne. Elles peuvent être utilisées pour une grande variété d'utilisations.
En 2013, la station James Parker a dû y faire face, les nanites sont entrées dans les systèmes informatiques de la station, empêchant d'évacuer ou de les détecter, elles tentaient de ralentir les tentatives pour les éliminer. D'autres se sont infiltrées dans le personnel et ont collecté des éléments de base cobinées pour créer une tumeur explosive causant de graves dégâts. Thomas Sincet fût blessé dans l'explosion d'un technicien sur le Pont 1 de la station.
Ad blocker interference detected!
Wikia is a free-to-use site that makes money from advertising. We have a modified experience for viewers using ad blockers

Wikia is not accessible if you've made further modifications. Remove the custom ad blocker rule(s) and the page will load as expected.