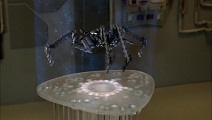 Niveau technologique : Extrême    Niveau de menace : Extrême    Planète d'origine : Inconnue 
Les Réplicateurs sont une race avancée d'« insectes » technologiques, étant une menace encore plus importante que les Goa'ulds. Les Réplicateurs furent découverts par les Asgards sur une planète isolée il y a longtemps. Ils furent rapportés pour être étudiés mais ils s'échappèrent et détruisirent tout sur leur passage. Ils se nourrissent de matières premières et d'alliages pour ensuite se répliquer. Ils ont une grande capacité à apprendre et démontrent un comportement individuel mais un seul but commun, se répliquer. Ils se composent de petits blocs, chacun ayant de l'énergie qui permet aux autres blocs de se rassembler. Les réplicateurs ont été créés originellement par Reese, un androïde, comme jouets. Elle leur apprit à se débrouiller seuls mais elle perdit rapidement le contrôle des Réplicateurs et ces derniers détruisirent sa planète avant de partir vers d'autres mondes.
Suite à la disparition supposée des Asgards et la destruction des Réplicateurs grâce à l'arme de Dakara, la menace semblait écartée.
Mais en 2015 l'Achilles découvrit qu'une poche Asgard ne s'était pas suicidée et avait des problèmes avec une autre sorte de Réplicateur. Une équipe de l'Achilles fut envoyée sur place et découvrit des Réplicateurs en forme de guêpes et volants. Ils sont équipés d'un dard rempli de poison.
Finalement la planète nettoyée grâce à la plateforme Horizon de l'Achilles.
Ad blocker interference detected!
Wikia is a free-to-use site that makes money from advertising. We have a modified experience for viewers using ad blockers

Wikia is not accessible if you've made further modifications. Remove the custom ad blocker rule(s) and the page will load as expected.