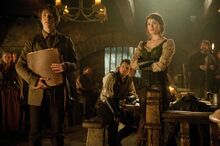 Niveau technologique : Moyen

Niveau de menace : Moyen

Planète d'origine : Inconnue (Galaxie d'Andromède)

Présentation
Humains en provenance de la galaxie d'Andromède. Chasseurs de prime, ennemis mortels des Gnitars bien que moins évolués.
Biologie et développement
Ce sont des humains tout ce qu'il y a de plus normal.
Histoire
Les connaissances actuelles affirment qu'aussi loin qu'on le sache ils ont toujours été les ennemis naturels des Gnitars, autre espèce de chasseurs de prime. Suite à la venue de Tonatiuh dans la galaxie Andromède, ils furent informés du contrat avec Tonatiuh et décidèrent de les suivre en espérant leur voler le contrat. Ils installèrent quelques colonies dans la Voie Lactée et firent en sorte de manipuler les terriens pour qu'ils attaquent les Gnitars et fassent leur travail, mais Aeryn s'Fallen les doubla et un groupe d'Hanulans fût bloqué sur un vaisseau Gnitar.
Culture
Les Hanulans sont une culture sans structure hiérarchique évoluée. Chaque clan d'Hanulan travaille pour lui et plusieurs clans peuvent se faire la guerre entre eux, mais ils peuvent se réunir pour combattre leur ennemi commun, les Gnitars. Ils ne sont pas très évolués technologiquement, se servent plutôt de la porte car ne possédant pas de vaisseaux, mais ils peuvent plus facilement s'infiltrer dans un groupe humain comme espions. Experts en combat, ils se débrouillent mieux que les Gnitars car non dépendants d'une combinaison.
Ad blocker interference detected!
Wikia is a free-to-use site that makes money from advertising. We have a modified experience for viewers using ad blockers

Wikia is not accessible if you've made further modifications. Remove the custom ad blocker rule(s) and the page will load as expected.