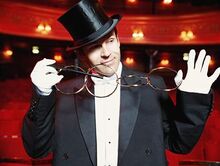 Juxini, appelé aussi Grand Juxini est un magicien utilisant des technologies très avancées pour faire apparaître ou disparaître des choses, visiblement la technologie utilisée lui a été fournie par Tonatiuh. Ce serait un dérivé de la technologie Asgard de téléportation.
Juxini est arrivé via une navette qui est sorti d'hyperespace trop tard et a fusionné avec le pont 4 du JPS en 2015.
Il a soumis le personnel à un gaz qui leur a fait croire que Juxini était un vrai magicien et les a subjugué via cette drogue. Il pouvait ainsi agir librement pour accomplir la mission donnée par Tonatiuh. Il posa des balises de téléportation sur la porte des étoiles et les F-311 de la station.
Lors de son Grand Tour, il activa la téléportation de la porte des étoiles et des F-311 vers un vaisseau Ha'tak qui était en mode camouflage, visiblement équipé par Tonatiuh via une version personnelle de l'occulteur Ancien.
Ce Ha'tak est ensuite parti en hyperespace.
Juxini a libéré les soldats de Tonatiuh qui étaient restés dans son vaisseau et s'est défendu face aux membres du JPS et a même blessé Galaïr Flowin à la main, lui empêchant dorénavant de se nourrir via sa main.
Finalement Juxini se désintégra pour ne pas être prit vivant.
Ad blocker interference detected!
Wikia is a free-to-use site that makes money from advertising. We have a modified experience for viewers using ad blockers

Wikia is not accessible if you've made further modifications. Remove the custom ad blocker rule(s) and the page will load as expected.