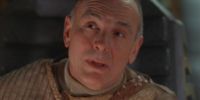 La Tok'ra est un groupe de symbiotes de type Goa'uld prenant des humains comme hôte mais, contrairement au Goa 'uld, l'hôte est consentant. Il descendent d'une reine nommée Egéria et luttent activement contre les Goa'ulds en infiltrant leurs bases. Ils vivent sous terre dans des galeries creusées avec des cristaux et refusent de se servir de technologies n'étant pas Goa'uld afin de se faire passer plus facilement pour l'un d'entre eux. Il n'utilisent pas de sarcophage pour se régénérer et la vie de leurs hôtes sont ainsi réduite à deux cents ans au maximum et doivent en trouver un autre passé ce délai.

Suite à la défaite des Goa'ulds et des Oris et après les dix ans d'inactivité des terriens, JP-2 a reprit contact avec eux en 2015. Ces derniers ont fondé une cité florissante sur Jorash à l'air libre. Ils ne veulent plus participer à des conflits armés comme avant, ils se dévouent à la recherche scientifique et philosophique pour atteindre l'ascension comme les Anciens.
Ad blocker interference detected!
Wikia is a free-to-use site that makes money from advertising. We have a modified experience for viewers using ad blockers

Wikia is not accessible if you've made further modifications. Remove the custom ad blocker rule(s) and the page will load as expected.