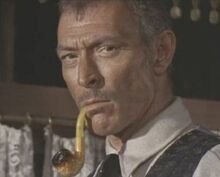 Chef du peuple Hanulan, il fût le premier à prendre contact avec la station JPS en prétextant un attaque des Gnitars pour pouvoir pénétrer sur la station JPS avec quelques hommes pour aider le personnel de la station.
Tandis qu'une partie du groupe est en mission commando sur le vaisseau amiral Gnitar, les hommes de Jintok restés sur la station abattent John Cooper qui tentait de donner l'alerte.
Finalement, Aeryn s'Fallen le double et le laissa avec le commando sur le vaisseau Gnitar pendant que Jacob Smith se débarrassa des Hanulans restés sur la station mais en faisant exploser l'infirmerie par la même occasion.
Ad blocker interference detected!
Wikia is a free-to-use site that makes money from advertising. We have a modified experience for viewers using ad blockers

Wikia is not accessible if you've made further modifications. Remove the custom ad blocker rule(s) and the page will load as expected.