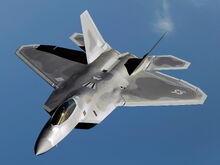 Type 
Chasseur intercepteur aérien et spatial
Matricule  F 311, X 311 lors des tests
Longueur : 18.90 m Largeur : 13.56 m Hauteur : 5.05 m (avec trains d'atterrissage)
Vitesse maximum 
Au delà de la vitesse de la lumière en hyper-espace soit plus de 300.000km/s, 40 000 km/h en vol extra orbital, sur propulseurs conventionnels, 10 000 km/h en vol stratosphérique, sur réacteur atmosphérique.
Armement 
8 missiles AIM120X AMRAAM montés sous les ailes, modifiés pour la pénétration des boucliers énergétiques 4 railguns Vulcan M61 montés sur le nez de l'appareil.  Des ogives stratégiques (nucléaires) peuvent être employées, tout comme des bombes de tous types (guidées et lisses).
Propulsion 
2 propulseurs conventionnels 2 boosters "aerospike" 1 rocket booster 1 générateur d'hyper-propulsion asgard
Défense
Blindage double couche Naquadah/trinium Bouclier de faible capacité
Passager 
Un PAX peut être embarqué, en place arrière.
Ad blocker interference detected!
Wikia is a free-to-use site that makes money from advertising. We have a modified experience for viewers using ad blockers

Wikia is not accessible if you've made further modifications. Remove the custom ad blocker rule(s) and the page will load as expected.