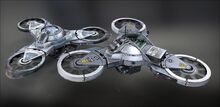 Petit drone de reconnaissance disposant de 3 hélices encastrées pouvant être déployer sur le terrain. Disposant d'une caméra, il peut aussi embarquer une petite réserve d'explosif, une charge IEM ou un petit pistolet à fléchettes. Grâce à une balise portée par le soldat, le drone, une fois lancé, va automatique le suivre lorsqu'il n'est pas sous le contrôle direct de l'opérateur
Ad blocker interference detected!
Wikia is a free-to-use site that makes money from advertising. We have a modified experience for viewers using ad blockers

Wikia is not accessible if you've made further modifications. Remove the custom ad blocker rule(s) and the page will load as expected.