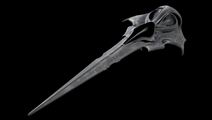 Ce dart est utilisé par les Wraiths pour effectuer leur collecte d'êtres humains et comme vaisseau de combat. Avec sa rapidité et sa forme élancée, il peut facilement franchir la Porte des Étoiles et effectuer une attaque éclair avant de repartir. Ces darts possèdent un DHD qui leur permettent de composer une adresse pour la Porte des Étoiles.
Ad blocker interference detected!
Wikia is a free-to-use site that makes money from advertising. We have a modified experience for viewers using ad blockers

Wikia is not accessible if you've made further modifications. Remove the custom ad blocker rule(s) and the page will load as expected.