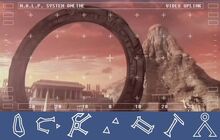 Terrain : Désert et ruines Climat : Désertique Civilisation : Présente Missions : JP-2
Précédente mission: JP-2 en Avril 2015
Peuple en présence: La nation libre des Jaffas
Menace potentielle: Non. Anciens alliés
Données MALP :
Température: 35° à 45 ° en journée / 10° à 15° la nuit
Qualité de l'air: Bonne
Niveau des radiations: Faible
Humidité: 30%
Altitude: 300 m
Autres:
Interprétations:
La porte des étoiles se trouve aux abords du Parlement de la Nation Jaffa, non loin des ruines de l'arme Ancienne détruire par les Oris dix ans auparavant. En prenant un chemin de terre à gauche de la porte, on trouve un grand camp d'entraînement où plusieurs centaines de combattants s'entraînent
La planète semble être un immense désert rocailleux et montagneux. La roche est rougeâtre et très friable. D'après les premiers analyses, elle semble être riche en fer.
Il y a peu de végétation. Seul quelques petits arbustes broussailleux semblent résister à l'atmosphère étouffante de la planète et à son soleil de braise.
Le MALP détecte un vent calme qui amène avec lui un peu de fraîcheur.
Objectifs possibles de la mission :
- Raffermir les liens avec la nation jaffa.
- Entraînement en commun avec les jaffas.
Équipement spécifique:
- Vêtements de protection solaire
- Crème solaire
- Casquette
- Grande quantité d'eau
Auteur : Thena Khoomi
Ad blocker interference detected!
Wikia is a free-to-use site that makes money from advertising. We have a modified experience for viewers using ad blockers

Wikia is not accessible if you've made further modifications. Remove the custom ad blocker rule(s) and the page will load as expected.