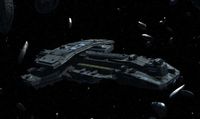 Le Akarski est un vaisseau créé à partir du BC-304 terrien par Tonatiuh qui a prit pour hôte Eric Morton. Ce vaisseau a été amélioré et possède des boucliers renforcés, un brouillage empêchant les téléportations, un système de régénération des systèmes inspiré de la technologie Wraith ainsi que des drones inspirés de ceux des Anciens. C'est un vaisseau redoutable qui a bien failli détruire le James Parker Spaceport.

Son sister-ship, le Kouznetski a été construit par les Compags et découvert par l'équipage de l'Achilles en 2014. Il était dirigé par Stukof Kouznetski jusqu'à son retour sur Terre. On ne sait pas ce qu'il est devenu.
Ad blocker interference detected!
Wikia is a free-to-use site that makes money from advertising. We have a modified experience for viewers using ad blockers

Wikia is not accessible if you've made further modifications. Remove the custom ad blocker rule(s) and the page will load as expected.