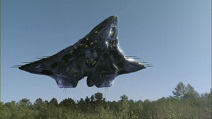 Ces croiseurs Wraiths accompagnent les vaisseaux ruches lors de leur déplacement. Ils sont beaucoup plus petit qu'un vaisseau ruche et possède de nombreuses armes Wraiths. Ils ne semblent pas posséder de hangar pour des dards Wraiths. Dans l'éventualité où les vaisseaux ruches escortés par ces croiseurs seraient tous détruits, les croiseurs s'échappent en hyperespace pour rejoindre une autre flotte. Nous ne savons pas si ces croiseurs doivent effectuer des arrêts entre leurs bonds en hyperespace comme les vaisseaux ruches. Ces croiseurs ne servent pas strictement à l'escorte des vaisseaux ruches
Ad blocker interference detected!
Wikia is a free-to-use site that makes money from advertising. We have a modified experience for viewers using ad blockers

Wikia is not accessible if you've made further modifications. Remove the custom ad blocker rule(s) and the page will load as expected.