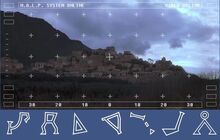 Terrain : Forêts Climat : Tempéré Civilisation : Jaffa Missions : JP-1
Précédente mission : JP-1 en Février 2014
Peuple en présence : jaffas, alliés ancestraux de la Terre
Menace potentielle : Maladie de Chulak
Données MALP :
Température : 9°C
Qualité de l'air : Bonne
Niveau des radiations : Nul
Humidité : 70%
Altitude : 983m
Autres :
C'est une planète au climat tempéré comportant de grandes forêt et des cités de pierres. 
Interprétations :
 Planète viable pour l'homme et habitées par une population à priori alliée.
Chulak était la planète mère du goa'uld Apophis. Elle est peuplée de nombreux jaffas. A la mort du faux dieux, elle fut annexé par d'autres goa'uds avant de devenir libre, après la victoire des jaffas lors de la bataille de Dakara.
En 2014, une équipe du SDT, JP-1, y fut envoyé pour renouer le contact avec les jaffas, anciens alliés de la Terre. La mission ne se déroula pas comme prévu. Les autochtones étaient soit morts, soit atteint d'un mal étrange les rendants extrêmement agressifs et photosensibles. 
JP-1 y rencontra une extra-terrestre qui n'était pas originaire de cette planète et l'un de ses membres fut attaqué par un jaffa atteint. Il commença à adopter un comportement agressif et paranoïaque.
Mise à jour : Thomas Sincet
Ad blocker interference detected!
Wikia is a free-to-use site that makes money from advertising. We have a modified experience for viewers using ad blockers

Wikia is not accessible if you've made further modifications. Remove the custom ad blocker rule(s) and the page will load as expected.