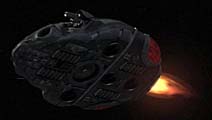 De forme relativement ovale, le vaisseau mesure environ la longueur d'un Jumper. Son armement se compose exclusivement de tirs d'armes à énergie. Un escadron de ce type de vaisseau ne se contente globalement que de se poser sur un vaisseau afin d'y découper la coque au laser pour permettre aux troupes ennemies d'y pénétrer.
Ad blocker interference detected!
Wikia is a free-to-use site that makes money from advertising. We have a modified experience for viewers using ad blockers

Wikia is not accessible if you've made further modifications. Remove the custom ad blocker rule(s) and the page will load as expected.