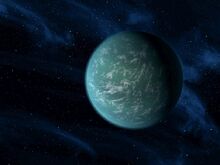 Planète sans porte des étoiles dont la position est données dans le Grimoire des 4 races.
Elle possédait un château construit par les quatres races contenant un trésor permettant de rejoindre la galaxie des Furlings.  Mais le château fut détruit et seuls un E2PZ et un alien en stase furent sauvés de la destruction.
Ad blocker interference detected!
Wikia is a free-to-use site that makes money from advertising. We have a modified experience for viewers using ad blockers

Wikia is not accessible if you've made further modifications. Remove the custom ad blocker rule(s) and the page will load as expected.