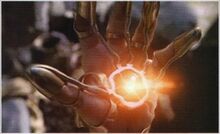 Le bracelet goa'uld canalise l'énergie via des cristaux amplificateurs qui permettent de contrôler les autres par la pensée et les émotions. Il requiert la présence de naquadah dans le sang. Il est généralement intégré dans l'appareil que portent les Goa'ulds au poignet, lequel est doté d'un champ de force individuel ou d'anneaux de transport. porté à la main gauche, le bracelet goa'uld peut soumettre quelqu'un, le paralyser, le torturer ou le tuer. Le bracelet goa'uld s'enfile sur les doigts.
Ad blocker interference detected!
Wikia is a free-to-use site that makes money from advertising. We have a modified experience for viewers using ad blockers

Wikia is not accessible if you've made further modifications. Remove the custom ad blocker rule(s) and the page will load as expected.