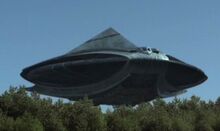 L'alkesh est un bombardier de moyenne portée capable de voyager dans l'hyperespace. il est équipé d'anneaux de transport et d'un système de camouflage. Il est suffisamment maniable pour attaquer un vaisseau mère. Les Goa'ulds s'en servent souvent lors de leurs attaques aériennes, mais l'alkesh peut aussi transporter de vastes armées pour les déposer au sol.
Dimensions : 
Longueur : 67 m  
Largeur : 31 m  
Hauteur : 14 m 
Technologies à bord : 
- Hyperespace
- Anneaux de transport
- Canons à énergie (2)
- Bombes plasma
- Occulteur
- Boucliers
Attaque : 
- Bombes plasma (suffisamment puissante pour détruire des tunnels tok'ra
- Canons à énergie
Défense : 
- Boucliers 
- Occulteur
Ad blocker interference detected!
Wikia is a free-to-use site that makes money from advertising. We have a modified experience for viewers using ad blockers

Wikia is not accessible if you've made further modifications. Remove the custom ad blocker rule(s) and the page will load as expected.